Cruise Details
Reggae on the River w/ Merrimack Delta Dubset
Date:

Aug 12, 2015

Age Restriction:

21+

Boarding Time:

7:00 PM

Departure Time:

7:30 PM

Duration:

2.5 hours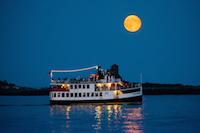 Details
Come join us each Wednesday night for a Caribbean style party ship. Kick back and enjoy watching the sights glide by while listening to live reggae bands or dance the night away. This event is 21+ and valid state issued photo ID required. Bags are subject to search.
Merrimack Delta Dub Set is a six peice reggae/hip hop outfit from Haverhill, MA formed Jan 29th 2008. Since then M.D.D.S. has established themselves, after three years of paying dues and changing line ups, as a heavy weight in the North Shore.
With the lead singing/mc/rhythmn guitar of Sean "Seamus" Stanton and smooth cerebral rhymes of Oliver "OD' Renau, Merrimack Delta Dub Set has packed every club from The Hard Rock Cafe, to The Middle East, to Bill's Bar.
With the rhythm section of Devon Hurt(bass), Benjamin Goldbaum(lead guitar), Clark Zlindra-Short(sax), and Derek Hayden(drums), Merrimack Delta Dub Set has nowhere to go but up. With the mixtures of both reggae and hip hop the band has found a niche in this ever growing music industry of sub genres upon sub genres.
Check out Merrimack Delta Dub Set here: Merrimack Delta Dub Set