Cruise Details
Isles of Shoals & Portsmouth Harbor Tour (Ferry Run)
Date:

Sep 09, 2016

Age Restriction:

None

Boarding Time:

11:55 AM

Departure Time:

12:25 PM

Duration:

3.25 hours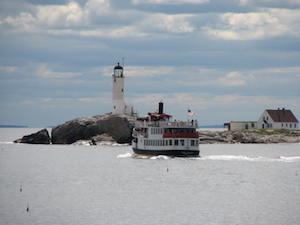 Details
This cruise is a Ferry Run to Star Island with abbreviated tour at a discounted price. There is a large group returning from Star Isand on this cruise - approximately 150 passengers.
Join us aboard the M/V Thomas Laighton for one of our expertly narrated Isles of Shoals and Portsmouth Harbor tours. Experience the history and beauty of the seacoast, Portsmouth harbor and the little known, but historically crucial, Isles of Shoals.
This cruise does not disembark passengers at Star Island.