Cruise Details
Isles of Shoals Tour aboard M/V Challenger (Ferry Run)
Date:

Sep 23, 2016

Age Restriction:

None

Boarding Time:

1:25 PM

Departure Time:

1:55 PM

Duration:

2.75 hours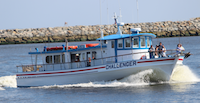 Details
Please note this cruise is aboard our new vessel the M/V Challenger which is the vessel pictured. There is a group of 50 Passengers traveling to the island on the cruise OUT.
Join us aboard the M/V Challenger for one of our expertly narrated Isles of Shoals and Portsmouth Harbor tours. Experience the history and beauty of the seacoast and Isles of Shoals with a more intimate view from our new vessel Challenger.
This tour stops briefly at Star Island to disembark overnight guests only. No disembarking at Star Island.