Cruise Details
Captain John Smith 400th Anniversary Day Visit!
Date:

Aug 27, 2014

Age Restriction:

None

Boarding Time:

8:55 AM

Departure Time:

9:25 AM

Duration:

7.0 hours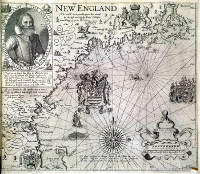 Details
Ticket includes LUNCH in the Oceanic Hotel, boat transportation, and access to a wide range of celebratory and informative events!
Voyage to Star Island for a day of interactive activities commemorating the 400th Anniversary of Capt. John Smith's charting of New England and the Isles of Shoals! Choosing this special ticket provides you access to an entire day's worth of events set amongst the island's historic landscape. Once on Star, explore pre-colonial history through food demonstrations highlighting the difference between native people and settlers, hand-tint your own map, learn about recent archeological digs on the Isles of Shoals showing centuries of use, discover the typical life of sailors and fishermen who frequented the Isles of Shoals, participate in a Gosport Town Meeting reenactment, and wander into a hand-made wigwam.
This is truly a cruise not to be missed! More information available at: http://starisland.org/events/johnsmith/
Please arrive at least 30 minutes prior to your scheduled departure time.
These special days are held in partnership between Star Island, the Cowasuck Band of the Pennacook-Abenaki People, Historic Star Conference, the University of Southern Maine, and the Isles of Shoals Historical & Research Association.