Cruise Details
Sunset Acoustic Harbor Cruise w/ Haley and Storms
Date:

Aug 14, 2016

Age Restriction:

None

Boarding Time:

5:55 PM

Departure Time:

6:25 PM

Duration:

2.0 hours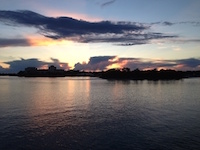 Details
Catch a gorgeous sunset aboard the M/V Thomas Laighton. Have a drink and unwind to live acoustic entertainment. A perfect end to your week.
Haley & Storms's acoustic repertoire includes an eclectic mix of contemporary indie and pop favorites (Postal Service, Weezer, Taylor Swift), rock and roll classics (Everly Brothers, The Beatles), as well as some original material from The Cranks' catalogue.
The duo first met at Connecticut College, where they formed a six-piece folk-rock band. Haley and Storms currently play in the Northern Massachusetts indie-pop band The Cranks, whose latest release, "Cute Hat," was hailed as "the best EP release we've heard all year" by Metronome Magazine.
Haley & Storms's performance combines a distinct blend of vocal harmony with ornate guitar-work and, from years of experience performing together in different bands, an undeniable on-stage chemistry. They have left an impression on crowds not only with their musical talent, but also with their ability to form a connection with their audience. With smiles as infectious as their music, they are as delightful to watch as they are to hear.
Check out the band at http://www.thecranks.com/band.html